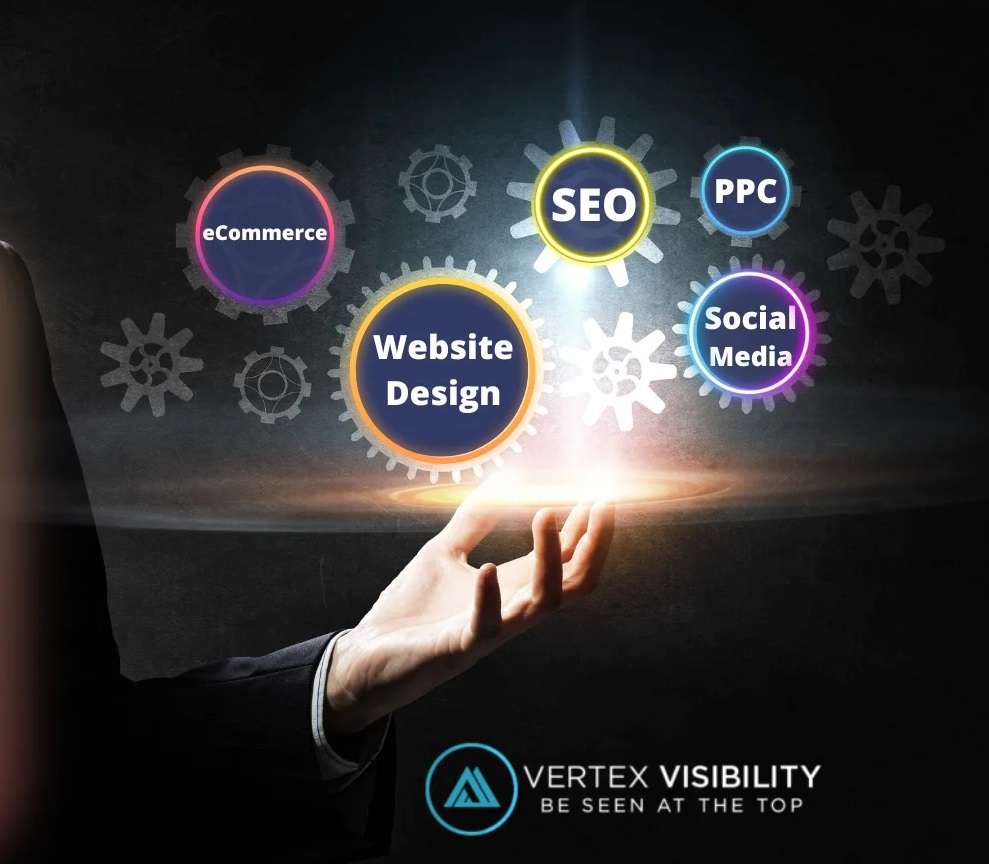 Vertex Visibility offers a variety of Website Design options. You can start with a simple landing page to set up a quick ppc adwords campaign or a short 3 page informational website to let your clients know what you do. If selling products and services is your thing. NO Problem! Our team can build you a fully functional eCommerce platform to immediately begin selling your products and services online. All of our websites are built with beautiful modern designs and cutting edge technology to make sure your online presence is bold and attractive.
If you are simply looking to update your existing website design. Let us look at what you have and well upgrade it to suit your current needs. Most websites we come across were built close to 10 years ago or more and often lack the functionality and appearance of today's modern websites. Let us freshen up your site to give you the competitive advantage you need in today's competitive economy.
What is website design?
Website design is the process of creating a website that is both visually appealing and functionally effective. It involves the creation of the website's layout, design, and content.
Why is it important?
A well-designed website can help businesses to:
Increase brand awareness: A well-designed website can help businesses to create a positive first impression and increase brand awareness.
Generate leads: A well-designed website can help businesses to generate leads by providing potential customers with information about the business and its products or services.
Drive sales: A well-designed website can help businesses to drive sales by making it easy for potential customers to purchase products or services.
Improve customer service: A well-designed website can help businesses to improve customer service by providing customers with a convenient way to get information, make inquiries, and resolve issues.
What are the principles of website design?
There are a number of principles of design that can be used to create a well-designed website. These principles include:
Clarity: The website should be easy to understand and navigate.
Consistency: The website should have a consistent look and feel throughout.
Contrast: The website should use contrast to make important elements stand out.
Repetition: The website should use repetition to create a sense of rhythm and order.
Proximity: The website should group related elements together to make them easier to find.
Alignment: The website should align elements to create a sense of balance and stability.
White space: The website should use white space to create a sense of openness and breathing room.
What are the different types of website design?
There are a number of different types of design, each with its own unique purpose. Some of the most common types of website design include:
E-commerce websites: E-commerce websites are designed to sell products or services online.
Corporate websites: Corporate websites are designed to provide information about a business, its products or services, and its employees.
Portfolio websites: Portfolio websites are designed to showcase a designer's work.
Blogs: Blogs are designed to share information and opinions with readers.
Social media websites: Social media websites are designed to connect people with each other and share information.
How to choose a design company in Las Vegas?
When choosing a website design company, it is important to consider the following factors:
Experience: The company should have experience designing websites for businesses in your industry.
Portfolio: The company should have a portfolio of websites that you can review.
Communication: The company should be easy to communicate with and should be responsive to your feedback.
Pricing: The company's pricing should be affordable for your budget.
Conclusion
A website is an important part of any business's online presence. By following the principles of website design and choosing a reputable website design company, you can create a website that will help you to achieve your business goals.
Here are some additional tips for creating a successful website:
Start with a clear purpose: What do you want your website to achieve? Do you want to increase brand awareness, generate leads, or drive sales?
Target your audience: Who are you trying to reach with your website? What are their needs and interests?
Keep it simple: A cluttered website will overwhelm visitors and make it difficult for them to find the information they need.
Use high-quality images and videos: Visual content can help to break up text and make your website more visually appealing.
Make it easy to contact you: Include clear contact information on every page of your website.
Keep your website up-to-date: Regularly add new content and update your website's design to keep it fresh and relevant.
By following these tips, you can create a website that will help you to achieve your business goals.it